Sebastian River Medical Center and Steward Medical Group Welcome Physician Group Fischman & Borgmeier in Vero Beach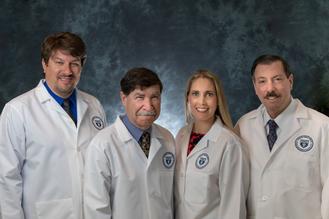 Sebastian River Medical Center and Steward Medical Group are pleased to welcome the Fischman & Borgmeier Group to the Steward Health Care system. Charles Fischman, MD, David Biezunski, MD, Brad Grasman, MD, and Lori Raffa, NP, have practiced in the area for more than 20 years and bring an expertise in Internal Medicine and Family Practice, Allergy & Immunology, Pulmonary Disease, Endocrinology and Diabetes to provide high-quality care for patients in the community.
"The addition of the Fischman & Borgmeier Group to our system is testament to the success of Steward's integrated care model," said Kelly Enriquez, president of Sebastian River Medical Center. "Our doctors and those at the practices in our community work collaboratively to deliver the right care, in the right place, at the right time."
By joining Steward Medical Group, the providers at Fischman & Borgmeier, are now affiliated with Sebastian River Medical Center. The hospital has been recognized by Healthgrades winning their Patient Excellence Award for 2016 and 2017 for being in the top 10% of the nation for patient safety.
Steward Medical Group is a dynamic and growing physician-led multispecialty practice group that is a key part of Steward Health Care, the largest private hospital operator in the United States. The medical group operates practices in 11 states, with both primary care and specialties ranging from Women's Health to Advanced Cardiac Surgery.
"We are proud to welcome the physicians of the Fischman & Borgmeier Group to Steward Medical Group," said Sanjay Shetty, MD, MBA, president of the medical group. "Local area physicians believe in our patient-centric approach which focuses on achieving the highest possible quality at an affordable price, and providing the best health care to our patients in a setting close to home."
Drs. Fischman, Biezunski, Grasman, and Nurse Practitioner Lori Raffa are located at 1600 36th St., Suite C, Vero Beach, FL 32960, and are accepting new patients. Anyone wishing to schedule an appointment may call the office at 772-569-6112. Please join us for an Open House at their office location on Monday, July 16 from 6:00 – 8:00 p.m. for an opportunity to meet the providers.
About Sebastian River Medical Center
Fully accredited by the Joint Commission, Sebastian River Medical Center offers surgical services including orthopedic, sports medicine, thoracic oncology and endovascular procedures and is consistently recognized for clinical excellence. SRMC's Joint Center is a Marshall Steele Destination Center and SRMC is a Bariatric Surgery Center of Excellence, designated by the American Society for Metabolic and Bariatric Surgery (ASMBS) and the American College of Surgeons (ACS). SRMC offers a full suite of cardiac services including diagnostic and interventional cardiology as well as hospital-based Cardiac, Pulmonary and Physical Rehabilitation Programs, Emergency Department, Laboratory, Sleep Disorders Center, Transitional Care Unit and a Center for Wound Care & Hyperbaric Medicine. For more information, click here