Sebastian River Medical Center Transitional Care Unit Receives Five-Star Rating from CMS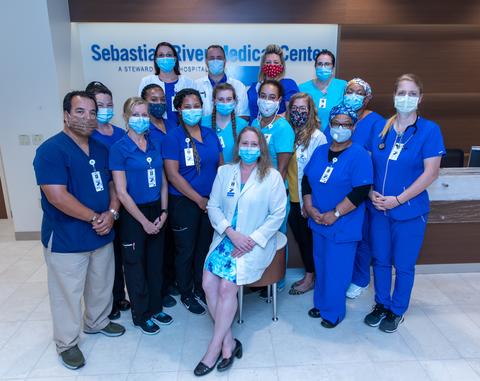 Sebastian River Medical Center Transitional Care Unit Receives Five-Star Rating from CMS
(Sebastian, FL June 25, 2020) – Sebastian River Medical Center's Transitional Care Unit has earned a five-star overall rating – the highest you can achieve - by the Centers for Medicare & Medicaid Services (CMS), for Nursing Homes. 
"This amazing recognition from CMS demonstrates that Sebastian River Medical Center's Transitional Care Unit provides the highest overall quality and patient-centered care for those transitioning between a hospital stay and home" said Ron Bierman, Chief Administrative Officer, Sebastian River Medical Center. "We are grateful for the commitment of our staff and physicians, and honored that our Transitional Care Unit, again, has been recognized as among the best for nursing home care."
The nursing home rating is based on measured data publicly reported on CMS' Nursing Home Compare (https://www.medicare.gov/nursinghomecompare/search.html). CMS' Five Star Quality Rating System for Nursing Homes is a consumer service that offers useful information to the public about the quality of care in the 15,800 nursing homes that participate in the Medicare or Medicaid programs. The Five Star Quality Rating System for Nursing Homes offers the most comprehensive overview of nursing home quality in the U.S. based on data from onsite inspections, quality measure and staffing levels.  Nursing homes are given an overall rating ranging from one to five stars, with five as the highest.
In 2019, Sebastian River Medical Center's Transitional Care Unit (TCU) provided 400 patients daily, skilled nursing care to help them gain the strength and abilities needed to return home after their hospital stay or surgery.  The first hospital-based unit in Sebastian, patients no longer must travel outside the facility, or the area, to receive rehabilitation and restorative, short-term medical services, making the transition to home that much easier on the patient and the family. 
Learn more by visiting https://www.sebastianrivermedical.org/services-directory/transitional-care-unit or calling (772)  581-2004.
About Sebastian River Medical Center
Sebastian River Medical Center (SRMC), a Steward Family Hospital, is a nationally recognized facility located along Florida's Treasure Coast offering high-quality care close to home. SRMC is accredited by the Joint Commission, is a Bariatric Surgery Center of Excellence - as designated by the American Society for Metabolic and Bariatric Surgery (ASMBS) and the American College of Surgeons (ACS), and the Transitional Care Unit has received a five-star rating from the Centers for Medicare and Medicaid.  Our system includes over 150 affiliated physicians, 650 nursing and ancillary staff and over 100 volunteers. Services include medical/surgical inpatient, emergency care, general surgery, orthopedic surgery, urological surgery, gastrointestinal services, a cardiac catheterization program that includes implant devices, neurosurgery and spine surgery, as well as a full-service outpatient diagnostic center. Furthermore, SRMC's emergency room is proud of its ability to screen patients upon arrival for respiratory-related illnesses and offer designated sections of the emergency treatment area for respiratory and non-respiratory patients. SRMC is always growing to meet the expanding healthcare needs of the Treasure Coast.  Our new tower includes a new entrance off Bay Street, 48 private rooms, the latest surgical and cleaning technology, and enhances the patient and family experience.   
Sebastian River Medical Center is located at 13695 US Highway 1, Sebastian, FL 32958. For more information, please call 772-589-3186 or visit SebastianRiverMedical.org.
###