We believe that recovering from an injury or surgery encompasses both mind and body. Sebastian River's inpatient & outpatient rehabilitation center address both the mental and physical aspects of rehabilitation as we focus primarily on physical therapy, occupational therapy and speech therapy.
Inpatient and Outpatient Rehabilitation Center in Sebastian FL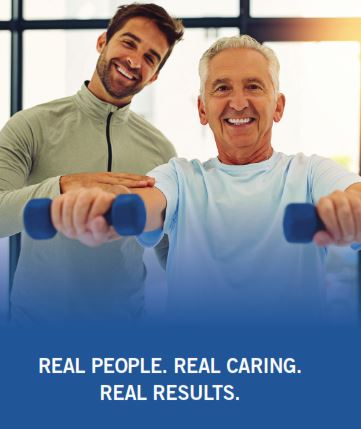 At Sebastian River Medical Center, you're treated with an emphasis on qualitative, not quantitative, result. With the goal of returning all patients to their highest level of function possible, our staff of experienced licensed therapists offers individualized rehabilitation programs and the most progressive treatments available.
Sebastian River Medical Center's rehabilitation services offers a wide variety of programs including:
Physical therapy
Occupational therapy
Speech therapy
Adaptive equipment
Arthritis program
Balance and body mechanics
Custom splinting
Hand therapy by a certified hand therapist
Injury prevention and education
Lymphedema management
Orthopedic and neurological rehab
Post-surgical rehab
Spine management
Stabilization training
Vestibular rehab (dizziness)
Work reconditioning
Sports rehabilitation
 
Post-Surgery Recovery & Education for Patients
At Sebastian River Medical Center, we recognize that some patients may not require extensive therapy. For those patients, we offer programs designed to complement the referring physician's treatment plan and contribute to complete recovery. These programs may include:
Education programs
Home exercise instruction
Injury prevention education
 
Additional Information for First Time Patients
Sebastian River Medical Center Rehabilitation Services participates in most managed care plans and provides direct filing of primary and secondary insurance.
 
Schedule an Appointment with a Sebastian River Therapist Today!
For more than 3 decades, Sebastian River Medical Center Rehabilitation Services has built strong physician and patient relationships by providing the highest quality care in state-of-the-art facilitates. To learn how we can help you meet your specific recovery needs, please call (772) 581-2068.
 
Need to Reschedule Your Appointment?
Please notify us at least 24 hours in advance if you need to reschedule your appointment.
"Our goal is to assist you to return to the activities that make your life special." 
-Bernadette Haugh, PT,  Director of Rehabilitation Services & Physical, Occupational, and Speech Therapy; Inpatient & Outpatient Rehabilitation, and Transitional Care Unit at Sebastian River Medical Center.
Resources
Human Hand: Complex, often taken for granted

Your hands – especially as you age – are subject to the modern-day equivalent of all "the slings and arrows of outrageous fortune" which, according to the American Society for Surgery of the Hand, can include falls, accidents, traumas, wounds, scars, burns, injured tendons or nerves, fractures, arthritis and even various neurologic conditions brought on by stroke.

Speech Pathologists' Expertise Extends Far and Wide

Speech pathologists, including Jessica Fitzgerald and Mike Gaughran at the Steward Medical Group's Sebastian River Medical Center, may have one of the most incomplete job titles in all of medicine. Like their counterparts across the country, Fitzgerald and Gaughran do much more than work with people who have speech problems. They also help treat stroke, traumatic brain injury, Parkinson's and Alzheimer's patients. Those four problems make up a huge universe of potential patients.

'Spin" Class: Physical Therapy Can Quickly Cure Vertigo

Vertigo is the perception of motion when no movement is present or the abnormal perception of motion in response to movement. Medical News Today calls it "a sense of spinning or dizziness." In and of itself vertigo is not life-threatening, but – and this is a really big but – the dizziness of vertigo is a leading cause of falls, and "falls are the leading cause of fatal and non-fatal injuries for older Americans," according to the National Council on Aging.