Sebastian River Medical Center's Transitional Care Unit provides daily skilled care to help patients gain the strength and skills needed to return home. 
Sebastian River Medical Center's Transitional Care Unit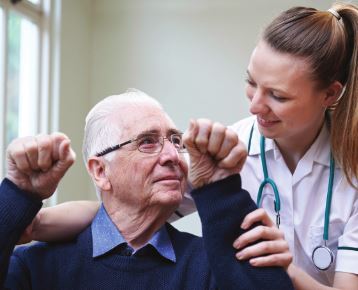 Sebastian River Medical Center's Transitional Care Unit (TCU) is the first skilled nursing facility in Sebastian. Patients no longer must travel to Vero Beach or Brevard County to receive transitional care services, which means they may continue to see their own doctors and avoid any disruption in continuity of care. 
Located on Sebastian River Medical Center's main campus, the TCU is committed to easing the concerns of patients and their families by providing personal attention in a respectful manner.
Sub-Acute and Short-Term Care
Sub-acute care is comprehensive inpatient care designed for someone who has an acute illness, injury or exacerbation of a disease process and requires around-the-clock medical care. It focuses on rehabilitative, restorative and medical services and is designed to return patient to their highest level of functioning.
Short-term care also provides intensive therapies on an inpatient basis for those who no longer require acute care but cannot yet return home. Skilled staff members treat patients suffering the after-effects of a trauma or debilitation disease using occupational therapy, physical therapy, and speech therapy. 
Occupational Therapy
Occupational therapy is designed to help people modify or adapt their skills in order to perform key daily living activities such as dressing and bathing, our occupational therapists use treatments to help patients with physical or mental conditions develop or recover the ability to perform these tasks.
Physical Therapy
When health problems make is difficult for patients to move around and do everyday tasks, physical therapy can help. Our physical therapists provide treatment to relieve pain, restore physical function and improve activity levels.
Speech Therapy
Speech therapy helps patients improve their communication skills in several areas including:
•    Speaking
•    Swallowing 
•    Problem solving 
•    Reading 
•    Writing 
•    Cognition 
Sebastian River Medical Center's Transitional Care Unit's staff of nurses, certified nursing assistants and skilled therapists provide treatment for many diagnoses, including:
•    Orthopedic surgeries and injuries
•    Neurological balance problems
•    Stroke rehabilitation
•    Arthritis management
•    Aphasia/speech disorders 
•    Post-surgical or medical hospitalization resulting in function decline
To learn more about the services we provide, call (772) 581-2004.
"I was extremely impressed with the nurses and therapists in the TCU – they handled my case with care and professionalism. I'm so glad I chose SRMC for my surgery and recovery." 
-Robert Moon
SRMC Transitional Care Unit patient
Resources
Music Therapy

In April of this year, Sebastian River Medical Center – in collaboration with Vero Beach's Visiting Nurse Association – turned back the clock at least 2,400 years to bring an ancient healing aid to the hospital's transitional care unit. Music therapy. The idea of music as a healing influence goes back at least as far as Plato, and modern science agrees with ancient philosophers about music's beneficial effects. "There are few things that stimulate the brain the way music does," Maryland's Johns Hopkins Medical Center reports. "If you want to keep your brain engaged throughout the aging process, listening to or playing music is a great tool. It provides a total brain workout. "Research has shown that listening to music can reduce anxiety, blood pressure and pain as well as improve sleep quality, mood, mental alertness and memory."

Sebastian River Medical Center Transitional Care Unit Receives Five-Star Rating from CMS

The Centers for Medicare & Medicaid Services (CMS) recognized Sebastian River Medical Center's Transitional Care Unit with five-star ratings in overall quality.