Cheyenne Flores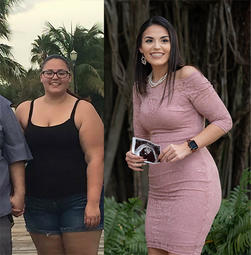 I started my journey in the beginning of 2018.  I was determined to lose my excessive weight. I dieted and exercised on my own with no success. That was only until I met Dr. Radecke. He gave me a strict plan and goals and I stuck to them until I was approved for surgery. On July 11, 2018 I had gastric bypass. My starting weight was 295 and I have maintained a current weight of 160-165. 
I am now 4 months pregnant and haven't gained any excess weight, aside from healthy pregnancy weight. I have maintained my weight by continuing to be active and make right choices when it comes to food, but I do cave to some of my pregnancy cravings! My pregnancy has been completely normal, and the baby has hit every milestone so far in growth and development! 
I started this journey because I saw my whole family struggle. We were all overweight and our lives evolved around what our next meal was going to be. I slowly saw our quality of life dwindle. I did know I wanted to be a mom someday, but I knew it can be dangerous and difficult to have a plus size pregnancy.  I also didn't want to be the overweight mom who had to sit on the sidelines because she just couldn't keep up or have my child be a target for bullying because their mom was overweight.
I decided it was time to make a change and wanted to bring everyone along for the ride. I had the best support system, my mom (she had the same surgery a month after me), my father, (he changed everything about his eating habits), and my younger brother became my gym buddy! I am forever grateful for the opportunity and support Dr. Radecke gave me throughout my journey. 
Always remember, love yourself no matter your size. It's about being health, happy, and taking care of yourself. You only have this one life, enjoy it to its maximum potential.  
Angele Dos Santos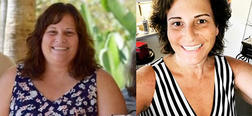 At 258 pounds, taking insulin and 12 pills a day Angele decided it was time to start a new journey. She was taking medications for diabetes, cholesterol and blood pressure before surgery. Now, at 187 pounds Angele is happy to announce she is free of all medications. "I thank you all so much, it's been a life changing experience for me." - Angele Dos Santos
Kenneth Shiver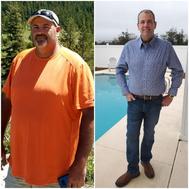 My weight gain story started many years ago, but the story I think everyone is more interested in is how I managed to improve my life through weight loss surgery.  Unlike some folks that might be reading this, I certainly could lose weight and had no good medical reason that I could not.  Simply put, I ate and drank more than my body required.  Consequently, I met the demise of constant bad eating habits and it began to take a toll on my overall health. 
By this time in late 2019, I had high blood pressure, high cholesterol, knee pain, sores in my belt area, I was pre-diabetic and just staved off stage one tongue cancer.  My loving, supportive wife had already done the hard work of finding such an awesome weight loss surgical practice as part of her own weight loss story.  Of course, I did what most smart men would do, I let her go first (kidding)!  A few years ago, I was totally against my wife having weight loss surgery, but one consultation with Dr. Domkowski changed my mind and our lives forever.  While Amanda was going through her surgical journey, I was taking mental notes at her appointments and pondered if I might be a candidate.  To make the story short, I elected to have gastric sleeve surgery as recommended by Dr. Domkowski.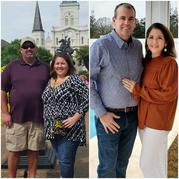 I managed to shake off the many comments from folks that said that I did not need the surgery and that I was not too big.  These are the same folks that say to me today that they had no idea I was that big or "I never remembered you being that big!"  My first-year surgical anniversary was January 8th, 2021.  So far, I have lost 70 pounds and currently weigh in at 206.  I did manage to lose weight following the liver shrinking diet and the prescribed diet ahead of the surgery, which gave me roughly a 10-pound head start.  My fears of losing too much weight are squelched now (this thought was a result of cancer).  I am four pounds away from what I called "my personal goal" and roughly 20 pounds from my medically recommended weight. I have not lost much weight since early January, maybe a couple of pounds, but my body shape seems to be changing noticeably.  My weight is still redistributing. 
I feel great and have physical capabilities restored that I have not been able to do in years.  I only require a small amount blood pressure medication.  I had a 42-inch waist and had to buy new jeans again which turned out to be 33 inches (clothes might be a problem during the first year). 
Though I am grateful for Dr. Dom and Dr. Rad, I am certain these fine men would credit their incredible staff for the high-quality care that they provide to their patients at Riverside Surgical and Weight Loss Center.  Shout out to all the staff for providing the required substrate that the physicians need to be successful.  I want to personally thank the entire team for your participation in my weight loss journey and share with you the joy I have had ever since.
Robyn
At 229 pounds, Robyn was shutting herself off from her friends and family. She neglected her garden because it took too much energy and she didn't want her neighbors to see how big she was.
"Food was more my family than my family was,"
Robyn says. At a routine doctor visit, tests showed that Robyn was borderline diabetic and her blood pressure was high. When she looked for weight-loss surgery information on the Internet, she was drawn to the stories of real people who said, "This works. Why aren't you doing it?" After her surgery, Robyn was surprised at how good she felt, and how little pampering she needed. "The surgery has given my life back to me," Robyn says.
Ken
Ken was limited in his job as a corrections officer by his weight. At 334 pounds, it was difficult for him to make rounds, and he couldn't be on the response team because he wasn't able to run very far. Ken disliked being placed in positions where he wouldn't be a liability. He knew that he had to make a change to advance in his career. Ken was unable to travel because of his fear of not fitting into an airplane seat. He had once enjoyed playing basketball, but at age 25 he found himself sitting on sidelines, eating a bag of chips while watching his friends and family play. When his doctor asked him if he wanted to live past the age of 40, Ken's eyes were opened and he started looking into options. After weight-loss surgery, Ken participates in a basketball league and has traveled comfortably to Atlanta in the middle seat on the plane.
Justin
Justin started gaining weight after his parents got divorced. He had high blood pressure and sleep apnea, and his friends and family were worried about him. The difficulty of doing the simplest things was depressing. One day, eating in a restaurant with his grandmother, Justin was taken aback by a man rudely staring at him. He knew he had to do something about his weight and, after attending a surgical weight-loss seminar, he knew this was what he wanted to do. His grandmother even offered to pay for the surgery. After eight months and 150 pounds lost, Justin can sleep through the night and doesn't want to stay in the house all day.
"I've regained life," he says. "Now I just want to run and be free."
Maykeya
Maykeya used to love to skate. But at 221 pounds, she could no longer skate with her husband and children; the weight was too much for her knees. She loves shopping but was doing more of it online because she didn't want to be seen in public. Maykeya felt she was missing out on life. One day in her bathroom, she looked in the mirror and said, "Am I going to have to live the rest of my life like this? There has to be something better." That's when she started looking into weight-loss surgery. Researching doctors, she was thrilled to find Dr. Domkowski, who had saved her life in 2003 by operating on a burst appendix. Maykeya says that Dr. Domkowski has now saved her life twice. Since her weight-loss surgery, Maykeya's life is filled with more joy, happiness, and peace. She's more energetic in her job as a preschool teacher. "Now I'm the 'fun teacher,'" Maykeya says.
Les
Les felt like he was cheating his family by not participating in family outings.
At a theme park, he couldn't walk far, and at the theater he didn't fit in the seats. His doctors were amazed that, at 392 pounds, he didn't have any serious health issues, but carrying that much weight made Les feel like a ticking time bomb. Les had tried every diet, including Weight Watchers, Jenny Craig, and South Beach. He'd diet and lose weight, only to gain back the weight he'd lost . . . and more. "I felt like I was going backwards," Les says. While surfing the internet, Les found a weight-loss seminar taking place the very next day at Sebastian River. He attended the seminar, had the surgery, and now says that his only regret is "Why didn't I do this sooner?"
Chrystal

One year ago, today, I changed my life. I had vertical sleeve gastrectomy surgery and it was the best decision I ever made. I have lost 190lbs, 71inches, 7 pant sizes, 4 shirt sizes, and 1 shoe size.  But I have gained so much more:  I gained my life back! I gained the ability to run, play and jump with my nieces and nephews.  I can fly in a regular airplane seat and I can ride a roller coaster.  I do not have to put my seat all the way back in my car so I can fit.  I can exercise without being in pain and can say "no" to those foods I shouldn't eat.   I gained back being able to tie my tennis shoes, the ability to start running without joint pain, and I could go on with this list forever.  This surgery was by no means the "easy way out."  For the record, this came with A LOT of hard work, will power, dedication, diet and exercise. I still have 50lbs to meet my goal weight, but I'll be there in no time with the help of Dr. Radecke. He is simply AMAZING and the best supporter of his patients.  He really cares about each of us.
Eric

I had been overweight since I was in my 30's.  Before then, I was healthy and always working out. In 1997 I had knee work done. The knee work led to years of pain and suffering. Finally, in 2008, I had to have knee replacement. From that point on, my weight got out of control. I did try to work out, but my diet and activity fell short and the weight kept coming. I went to one of my regular physician appointments and was told that my blood pressure was sky high and that I was headed to developing diabetes. Knowing my family history of heart disease and diabetes, I thought I better start thinking of a way to get something done other than just the gym and changing my eating habits. In 2018 my journey began when I was referred to Dr. Radecke. After the surgery, I did all the right things and followed the program.  I then started to add in my gym routine and the pounds fell off:  I lost 100 lbs. within 10 months. Now, two years out, I would not change a thing and I do not regret my decision to have gastric bypass.
Raquel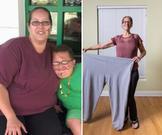 It feels good to feel good. It was definitely scary, but I took the leap and it was the best leap that I ever took. The doctors and nurses at Sebastian River Medical Center are wonderful. I just did what they told me to do. I would absolutely do it all over again if I had to. I hope to inspire someone else and I would tell them that there IS light at the end of the tunnel. - Raquel
Kevin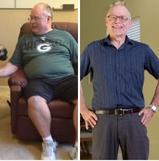 "Wellness is life-changing. You don't appreciate the differences until you look back and see where you have been." -Kevin
Amanda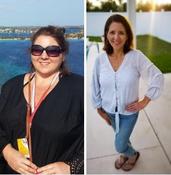 "Three years ago, I made the best decision of my life and had gastric bypass surgery. Dr. Patrick Domkowski, his staff, and Sebastian River Medical Center all were amazing. Thank you Dr. Domkowski for giving me the tool to have a healthier life. I have lost 110 pounds and living my best life. It has not always been easy but it has ALWAYS been WORTH IT. I love my new me!!!" -Amanda S.
Bob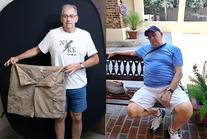 I want to start by thanking the entire bariatric team at Steward Bariatric and General Surgery, and Sebastian River Medical Center.         I originally started my journey about four years ago, I did everything I was supposed to and was ready to go when I thought to myself, "I can lose the weight without putting myself through surgery," and backed out. 
Over the next couple of years, I exercised, watched what I ate, and it seemed to work a little, but it was getting frustrating because I would lose weight and gain weight with not much progress.  Doctors would increase meds, put me on more meds and before I knew it, I was taking 10 meds a day between morning dose and evening dose, and this did not include vitamins or the once a week drug I had to take.  I was not feeling very good about myself, blood pressure not good, diabetes not good, just all around not what and where I wanted to be. 
In January of 2019, I ran into a friend who had lost a lot of weight and I asked him about it.  He explained his surgery to me, and seeing him and how he looked, really inspired me to get myself together so I approached my primary care physician who knew I was trying to lose weight for a few years.  She approved a referral to go see Dr. Radecke again. 
During my initial appointment in January 2019 with Dr. Radecke, we had a long conversation and my mind was made up to move forward. I felt good about my decision and did everything I had to.  On July 24, 2019, I had my surgery and I will tell you it is one of the best decisions I made. 
It has been over a year and I have lost 100lbs.  I have reached the goal that Dr. Radecke had set, but I decided to go a bit further.  Dr. Radecke is great!  He was very motivational with me.  He did tell me after my surgery, while in the hospital, because of all the activity and working out I did before surgery, it made it a little tuff to do the gastric sleeve, but I will tell you he did a great job.  I used to hear about individuals having problems after the surgery, but I also would hear they did not do what they were told.  I had zero problems because I followed the rules and guidelines after my surgery. 
Now many of my friends and co-workers comment how well I look. They ask me how I feel.  My response: I feel great!  Although I was active before, I would sweat a lot quicker and tire easily because I was carrying all that extra weight.  I don't sweat as easy now when working aggressively on a project nor do I get tired. I will say at the end of the day, normally about 9 pm, I am ready to take a nap in my chair. 
As a result of my progress over the past 13 months, I am off seven medications, no longer have high blood pressure and my diabetes is under control.  I only take one medication for my diabetes instead of four. 
The only drawback I had, months after my surgery, was the fact I had to buy all, and I mean all, new clothes.  I went from an XXL shirt to a large, in gym shorts I went from XXL to large and my waist for pants went from a tight 44 to a lose 38.  My life has drastically improved.  I no longer try and hide my stomach by wearing my shirts out:  I don't hesitate to tuck my clothes in. 
If anyone asked me if I would do it again, I would do it in a split second.  I try and stay focused all the time because I don't want to become the guy I use to be. I see some of the folks I know that have gone through some type of weight loss surgery and they did not continue doing what they needed so, as a result, some look like the way they did before the surgery.  I am so happy, and my family is happy as well that I did this.  I especially want to thank my wife for the support and encouragement that she constantly provided me.  My self-esteem is better, and I am proud to present myself in public with clothes that fit. As I mentioned at the beginning, the crew - especially Dr. Radecke - are great.  I constantly thank them for changing my life.  The crew at Sebastian River Medical Center were great as well.  They constantly tended to my needs before, during, and after my surgery.
Bob D.
Bariatric Surgery Patient of Jason Radeke, MD 
Danny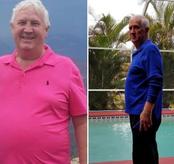 "I have so much more energy. I should've done this a long time ago," Danny F., weight loss surgery patient of Jason Radecke, MD.
Heather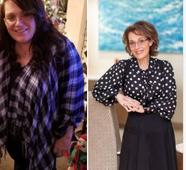 My name is Heather.  I have been morbidly obese my whole adult life. At the age of 19, I was pregnant and very depressed. My weight had ballooned upward towards 250lbs and I'm only 5'1. I had been diagnosed with gestational diabetes. I was told if I didn't lose weight, I would be a diabetic in my early adulthood. I have tried many diets and weight loss programs throughout the years with little to no success, often gaining more than what I lost each time.
 That physician I had seen when I was 19 years old turned out to be right. I was diagnosed with Type 2 diabetes at the age of 34. I was placed on an insulin pump to manage diabetes and a handful of pills. I continued my battle with my weight and now diabetes. From that moment on it was an avalanche of medical problems that would snowball into a snow-covered mountain. At the age of 38, I was now at this point suffering from sleep apnea, hypertension, insulin-dependent diabetes, high cholesterol, and now cardiac arrhythmias. I knew that if I continued that path it would lead to devastating results in the next 15-20 years.
I am a mother of three with three grandchildren who I knew I must help raise. I was referred to Dr. Jason Radecke by a fellow colleague for the medical weight loss program. I initially had gone to the office with an open mind, but the thought of surgery had not been a consideration at that time. After speaking with Barbara Allen, ARNP, and Dr. Radecke, we had decided that a Roux-En-Y Gastric Bypass would be the most beneficial. I researched every video, every website, every patient blog on the subject that I could find online.
On August 1, 2018, I had gastric bypass and I consider that day my re-birth. I have lost 125lbs, half my body weight, but more importantly, I have lost insulin-dependent diabetes, sleep apnea, hypertension, and high cholesterol. Saying goodbye to not only the extra weight but to my trusted insulin pump & inserted continuous glucose monitor, and the dreaded CPAP machine that was strapped tightly to my face every night was a glorious victory. It was and still is the best investment I have ever made for myself. I can run after my kids and grandkids; my memory is better than it's ever been, and I have energy like never. My only regret is not doing it sooner.
I am eternally grateful for the care given by Barbara Allen, ARNP, Dr. Jason Radecke, the entire office staff at Steward Bariatric and General Surgery, and to the staff who took care of me during the post-op phase at Sebastian River Medical Center, especially Janelle Norris, RN, who was so supportive and encouraging right after surgery. Without each one of them, this victory over the co-morbidities that plagued me would not have been possible.
Nicole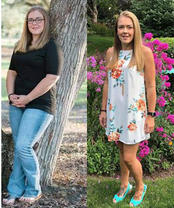 Like many people I have been held back by obesity for most of my life… I struggled through the difficulty of losing a small amount of weight, then to only regain it quickly plus more. I became depressed. I was so very discouraged, actually the word does not even begin to express the dark feelings I had.
It was do or die for me as if I did not lose weight I was going to lose my dream job as a flight attendant. I now can enjoy life to the fullest and live out my dream of traveling.
I am also grateful to Dr. Radecke as he NEVER once made me feel bad about my obesity. He was always 100% encouraging, positive and my biggest cheerleader. I am grateful to the care I received at Riverside Surgical Weightless and Sebastian River Medical Center." Nicole Y. – Bariatric Surgery Patient of Jason Radecke, MD
Jim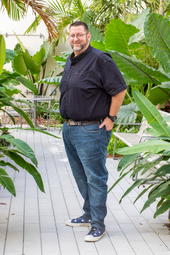 At my heaviest weight I was 515 pounds.  I was 43 years old and losing hope.  As an Army Veteran you'd think weight issues wouldn't be an issue. However, my issues began prior to military service.
When I decided to join the Army in 1989, I was 278 pounds and 6' 3. The Army wanted me at 231 pounds to enlist. I began a high activity low calorie regimen that helped me shed the excess weight. It was not the right way, as with most diets. During my service my weight fluctuated as most people's weight does. My diet wasn't the best and unfortunately running, push-ups and sit-ups, the Army idea of fitness every day, wasn't much help.  When I left the military, I lost any focus on my health and thus began the downward spiral and weight gain.
While in a bad marriage, my emotional eating got the best of me. Within a year of getting out of the Army, I put on 100 pounds. From there I would gain and lose weight with crazy programs and no focus. By 2000, I was over 350 pounds. I found a trainer who was able to help me lose one hundred pounds in six months. I was in the gym four days a week and eating a controlled diet. However, like many, once I stopped training and lost the accountability, my bad habits returned as did the weight.  Soon I was back to 300 pounds.  I settled into this "just being me" and life went on.
By the time 2012 rolled around I was over 400 pounds and feeling it. I was miserable. I had two sons:  One was nine and one was 15. I coached youth football and my body was letting me know it was bad.  Though I was morbidly obese, I had no co-morbidities that warranted me being a candidate. Dr. Domkowski called me a skinny fat person. I never smoked, no blood pressure issues or other problems. I was crushed because I could not financially afford the surgery. On the verge of giving up all together I kept eating.
In late April of 2013 I received a call from Dr. Domkowski' s office and we figured out a way for me to have surgery.  I was thrilled and scared. On May 29, 2013 at 485lbs, I went on the operating table. In God's hands and with a blessed surgeon nearly three hours later, I woke up in recovery and it was done. The best thing to ever happen to me besides my wife and children.  By September I dropped 100 pounds, I was down another 50 pounds by Christmas and an additional 80 pounds the following year hitting my lowest weight post-surgery of 255 pounds.
I've never regretted having the surgery and if I knew then what I know now, I would have moved Heaven and earth to do it.  My weight now fluctuates based on my activity and how I eat.  Staying active and eating clean is necessary. The surgery is only a tool. Used correctly with other tools and a great support system like that of Sebastian River Medical Center and Dr Domkowski' s and his staff, it can and will change your life for the better. I've never experienced a better team of medical professionals than that at Sebastian River Medical Center.  I'm 51 now and can't wait to live the next 50 years thanks to Dr. D.