C.A.R.E.S. Employee of the Month: Kimberly Bohall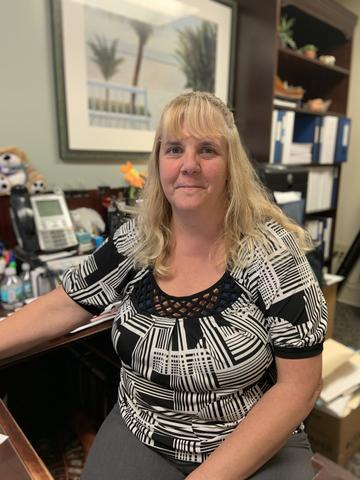 C.A.R.E.S. Employee of the Month 
Kimberly Bohall
Executive Secretary/Policy Coordinator
Sebastian River Medical Center
How long have you been at SRMC in this role?
I have worked at Sebastian River Medical Center for almost six years. I started working in the cardiology department in 2013 and moved to the administration department about a year after. Currently, I'm the Executive Assistant for Sebastian River Medical Center.
Where did you attend school?
I attended school in Pal-Mac, upstate NY, and graduated in 1989.
What inspired you to get into this field?
Well, I have never worked in a hospital before, and when I moved to Florida in 2013, I was looking online and found an office assistant job at the hospital. I was very excited to apply for a hospital position! After applying for the job, I received a call to come in for an interview, and a week later they called to see if I wanted the job.  I love working with people and learning new things, and this job offer was perfect for me!
What are some of your responsibilities in this position?
Some of my responsibilities include assisting the Chief Nursing Officer / Chief Operations Officer, and the Nursing Directors in the hospital. There are many administrative tasks associated with my job, and I enjoy helping in every way that I can.
What are some highlights from your career?
I have met a lot of very nice people throughout the years, which I enjoy. I love helping patients when I can. I also enjoy getting to know all the hospital employees and nursing staff. It's a true joy to be able to be in a central office location, where I'm able to see all the employees and their smiles every day!
What do you like to do for fun?
I enjoy going out on my boat and playing darts. I love to visit and spend time with my kids and grandkids.
What's something people don't know about you?
How old I really am!
What do you like most about working in Admin?
I love working with all our directors and various staff members, and helping everyone that I can!