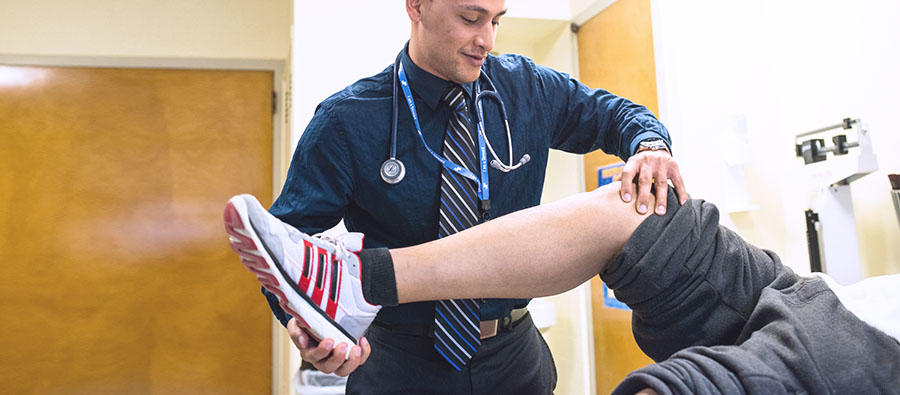 We care for the parts that keep you moving. When a bone, tendon, or joint doesn't work like it's supposed to, we offer a full range of orthopedic services to help get you back to the life you enjoy.

We are committed to being available for our community when they need us the most. The Sebastian Steward Orthopedic Clinic is open for ongoing appointments, as well as urgent care orthopedic walk-ins, from Monday through Friday from 8am – 5pm. Patients may call ahead in the parking lot, and a nurse will come to your car to assist you. We are taking the proper precautions to ensure the safety of our patients and team members, while still be available for routine and urgent care appointments.
 
---
Award-Winning Orthopedic Department at Sebastian Medical Center
Our team of orthopedic specialists handles everything from torn ligaments to total joint replacement and minimally invasive surgery, including robotic partial knee resurfacing and robotic total hip replacement.
Orthopedic Conditions Treated At Sebastian River Med Center
Arthritis and joint disease
Back and neck pain
Bone disease, including osteomyelitis and osteoporosis
Congenital deformities and conditions
Fractures, sprains, strains, and damage to tendons and muscles
Joint replacement
Total Hip Replacement
Total Knee Replacement
Partial Knee Replacement
Total joint replacement for elbows and shoulders
Hip resurfacing
Leg, knee and foot conditions, including ACL injuries, bunions, neuromas, plantar fasciitis, and more
Repetitive stress injuries, including carpal tunnel syndrome, tendonitis, tennis elbow, and DeQuervain's syndrome
Herniated disc, fractured vertebrae, sciatica, scoliosis, and other spine conditions
Dislocations, sprains, strains, shin splints, and other sports injuries
Comprehensive Care for Joint Replacement
Sebastian River Medical Center is participating in a Medicare initiative called the Comprehensive Care for Joint Replacement (CJR) model. The CJR model aims to promote quality and financial accountability for care surrounding lower-extremity joint replacement (LEJR) procedures, commonly referred to as hip and knee replacements and/or other major leg procedures.
The following list includes health care providers and suppliers that have established a collaborator agreement with Sebastian River Medical Center in order to share in financial rewards and/or losses in the CJR model. 
Sebastian River Medical Center's CJR Collaborators
Anthony Ware, MD
Kirk Maes, MD
Richard Steinfeld, MD
Carl Delella, D.O.
Past Collaborators
If you have questions or want more information about the Comprehensive Care for Joint Replacement (CJR) model, call Sebastian River Medical Center at (772) 589-3186 or call 1-800-MEDICARE. You can also find additional information at the cms.gov website.