Sebastian River Medical Center's 90,000 Square Foot Addition Opens to Meet the Healthcare Needs of The Treasure Coast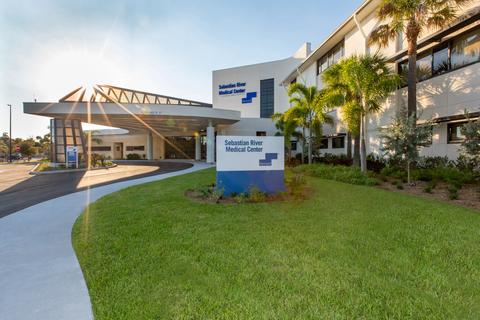 Sebastian River Medical Center's 90,000 Square Foot Addition Opens to Meet the Healthcare Needs of The Treasure Coast
(Sebastian, FL, July 8, 2020) - Sebastian River Medical Center, a Steward family hospital, has completed its 90,000 square foot expansion project bringing together state-of-the-art technology, increased safety and features enhancing the patient care experience.  "At Sebastian River Medical Center, we understand that healthcare is ever-changing and it is our responsibility to grow with the community, improve the delivery of healthcare and assure Treasure Coast residents they are receiving the latest treatments in a safe and compassionate environment," stated Daniel Knell, Florida Market President, Steward Health.
After 55 years of serving Indian River County, the 90,000 square foot addition revitalizes healthcare services on the Treasure Coast, giving the community 48 private, new rooms and enhancing the overall patient and family experience.  The tower features a new entrance off Bay Street allowing for ease of patient drop off and pick up, a large lobby featuring a coffee shop with convenient access to a large registration area and outside courtyard, new pre-operative and post-operative patient bays, three new procedures rooms, and six large operating rooms – with a capacity to expand to eight -  that can accommodate the latest technology assisting physicians and operating staff in delivering the highest quality of care. 
Patient outcomes, privacy and safety are policies and processes established by hospitals, but they were also incorporated into the design and systems placed within the tower.  "The operating rooms have the latest Steris Integration System which offers physicians ultra-high-definition detail and true 4K video and image resolution of surgical sites during surgery," explains Ron Bierman, Chief Administrative Officer, Sebastian River Medical Center.  "This technology will give physicians and operating room staff improved vision of the surgical site and therefore assisting in reducing complications and improving surgical outcomes." 
The surgical suite layout also offers an additional layer of privacy for our patients with a private physician/family consultation room located conveniently off the main lobby, and to further help the patient feel at ease after surgery, a dedicated patient elevator.  The elevator will take the patient from the post-operation surgical bays directly to their private room. 
"With the onset of COVID-19, hospitals had to take new and more advanced approaches to protecting our patients," explains Bierman.  "To enhance safety, we have placed the latest in sterilization systems in our facility.  This system utilizes conveyor belts and a cart transport system during sterilization, minimizing human contact, and staging and storage of instruments is contained to one area.  In addition, Sebastian River Medical Center has Tru-D Ultra-Violet C.  This is a cleaning system utilizing low-pressure, mercury gas bulbs that emit a strong, narrow band of the UV-C light spectrum killing bacteria, spores and virus." 
The Treasure Coast community understands the impact of hurricanes and the impact on delivering timely and appropriate medical care.  The new tower was designed to withstand a category 5 hurricane, ensuring the safety and continued care of our patients, staff and physicians during a hurricane.
About Sebastian River Medical Center
Sebastian River Medical Center (SRMC), a Steward Family Hospital, is a nationally recognized facility located along Florida's Treasure Coast offering high-quality care close to home. SRMC is accredited by the Joint Commission, has a Bariatric Surgery Center of Excellence - as designated by the American Society for Metabolic and Bariatric Surgery (ASMBS) and the American College of Surgeons (ACS), over 100 affiliated physicians, over 650 nursing and ancillary staff and over 100 volunteers. SRMC provides state-of-the-art technology, comprehensive emergency services and award-winning surgical care. SRMC has expanded to meet the growing healthcare needs of our community with a new tower that opened in June 2020.  It offers 48 private patient rooms, offers a total of six operating rooms with the latest in technology and sanitizing system to ensure safety, a new entrance from Bay Street into a large lobby with a coffee shop and gift shot.  Services include medical/surgical inpatient, emergency care, general surgery, orthopedic surgery, urological surgery, gastrointestinal services, a cardiac catheterization program that includes implant devices, neurosurgery and spine surgery, as well as a full-service outpatient diagnostic center. Furthermore, SRMC's emergency room is proud of its ability screen patients upon arrival for respiratory-related illnesses and offer designated sections of the emergency treatment area for respiratory and non-respiratory patients.
Sebastian River Medical Center is located at 13695 US Highway 1, Sebastian, FL 32958. For more information, please call 772-589-3186 or visit SebastianRiverMedical.org
About Steward Health Care
Steward Health Care is the largest private, for-profit health care network in the United States. The company is owned and led by a management team of Steward physicians.
Headquartered in Dallas, Texas, Steward employs more than 40,000 health care professionals and operates 35 hospitals across the United States and in the country of Malta which regularly receive top awards for quality and safety. The Steward network includes multiple urgent care centers and skilled nursing facilities, substantial behavioral health services, more than 7,000 beds under management, and approximately 2.2 million full risk covered lives through the company's managed care and health insurance services.
The Steward Health Care Network includes more than 5,000 physicians across 800 communities who help to provide more than 12 million patient encounters annually. Steward Medical Group, the company's employed physician group, provides more than six million patient encounters per year. The Steward Hospital Group operates hospitals in Malta and nine states across the U.S., including Arizona, Arkansas, Florida, Louisiana, Massachusetts, Ohio, Pennsylvania, Texas, and Utah. For more information, visit www.steward.org.