Keeping Joy During These Challenging Times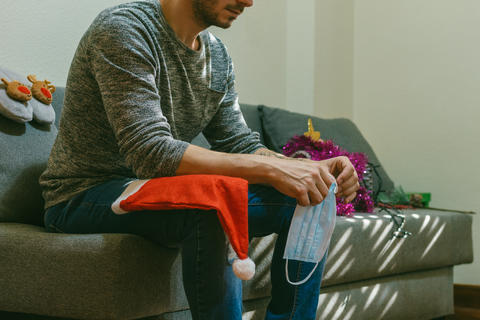 Holiday Blues 2020
Keeping Joy During These Challenging Times
 (Sebastian, FL, December 7, 2020) - There is no doubt that the holidays can be stressful, especially this holiday season.  The way we live our lives has changed and it is affecting the holidays in dramatic ways.  For the first time in our lives, we may be limited as to whom we can spend our holidays with, and our yearly anticipated social events may even have to be cancelled.  In some, the pandemic may have created feelings of sadness and anger that can be intensified with the normal holiday pressures of shopping and debt, leading to anxiety and depression. Help is available if you find yourself, family, or friends struggling this holiday season. 
The first step is to recognize some of the signs and symptoms of anxiety and depression. Signs of anxiety may include, but are not limited to the following:
Feeling nervous, restless, or tense
Having a sense of impending danger, panic, or doom
Having an increased heart rate
Sweating
Breathing rapidly (hyperventilation)
Trembling
Feeling weak or tired
Trouble concentrating; finding it difficult to keep your mind from wandering back to the matters we are worried about
Dreading or avoiding events that we usually look forward to.
Signs of depression may include, but are not limited to the following:
Feelings of helplessness and hopelessness
Loss of interest in daily activities
Feeling as if we are a burden on our family or friends; wondering if others would be better off without us
Thinking about ending our lives
Appetite or weight changes
Changes in sleep patterns
Anger or irritability
Loss of energy
Disliking ourselves intensely; blaming and criticizing ourselves over various things
Reckless behavior
Concentration problems
Unexplained aches and pains.
If you, family members or friends are experiencing any of the symptoms above, you are encouraged to speak with your physician, psychiatrist or licensed counselor.  These individuals are trained to help people work through their anxiety and depression and many may even offer telehealth services so the session can be done from the comfort of your own home.
If you, a family member or friend are thinking about suicide, call 911 right away or go immediately to your nearest hospital emergency department.  If you are in need of a physician, click here.
Below are some additional tips that may help to keep your holidays focused on love, happiness and appreciation.
Schedule family time through Zoom, Go to Meeting, Face Time, or other meeting software. Just seeing the faces and hearing the voices of those that can't be physically close, can make a world of difference you are doing an electronic family gathering, schedule holiday dinners at the same time, helping to give the effect that everyone is together. 
If you are doing an electronic family gathering, schedule dinners at the same time, helping to give the effect that everyone is together.
If you are able, have gatherings outdoors with masks and proper social distancing. 
Try baking or crafting and leave that batch of cookies or homemade ornament on a neighbor's doorstep, brightening not only their day, but your day as well. 
Exercise always helps to boost endorphins, lifting your spirits.
If you can go outdoors, walking in nature helps to relieve stress.
Have a heart-to-heart with a friend or trusted family member.
Limit your alcohol intake – more is not necessarily better. Be aware of any health and safety risks of drinking while you are taking medications.  Check with your prescribing clinician to be sure.
Stick within your normal routine as much as you can. 
Get plenty of sleep!
Set a realistic budget and then stick to it.
Set realistic goals and expectations, on yourself as well as others.
Do not label the season as a time to cure past problems.
Be aware of how you speak to yourself.  It can help a lot to replace harsh commentary with something more understanding and kind.
Again, it is important to seek help if you feel you need it, or if your symptoms persist for longer than two weeks. Contact your physician, a psychiatrist or a licensed counselor.
###
About Sebastian River Medical Center
Sebastian River Medical Center (SRMC), a Steward Family Hospital, is a nationally recognized facility located along Florida's Treasure Coast offering high-quality care close to home. SRMC is accredited by the Joint Commission, has a Bariatric Surgery Center of Excellence - as designated by the American Society for Metabolic and Bariatric Surgery (ASMBS) and the American College of Surgeons (ACS), over 100 affiliated physicians, over 650 nursing and ancillary staff and over 100 volunteers. SRMC provides state-of-the-art technology, comprehensive emergency services and award-winning surgical care. SRMC has expanded to meet the growing healthcare needs of our community with a new tower that opened in June 2020.  It offers 48 private patient rooms, offers a total of six operating rooms with the latest in technology and sanitizing system to ensure safety, a new entrance from Bay Street into a large lobby with a coffee shop and gift shot.  Services include medical/surgical inpatient, emergency care, general surgery, orthopedic surgery, urological surgery, gastrointestinal services, a cardiac catheterization program that includes implant devices, neurosurgery and spine surgery, as well as a full-service outpatient diagnostic center. Furthermore, SRMC's emergency room is proud of its ability screen patients upon arrival for respiratory related illnesses and offer designated sections of the emergency treatment area for respiratory and non-respiratory patients.
Sebastian River Medical Center is located at 13695 US Highway 1, Sebastian, FL 32958. For more information, please call 772-589-3186 or visit SebastianRiverMedical.org
About Steward Health Care
Steward Health Care is the largest private, for-profit health care network in the United States. The company is owned and led by a management team of Steward physicians.
Headquartered in Dallas, Texas, Steward employs more than 37,000 health care professionals and operates 36 hospitals across the United States and in the country of Malta which regularly receive awards for quality and safety. The Steward network includes multiple urgent care centers and skilled nursing facilities, substantial behavioral health services, more than 7,000 beds under management, and approximately 2.2 million full risk covered lives through the company's managed care and health insurance services.
The Steward Health Care Network includes more than 5,000 physicians across 800 communities who help to provide more than 12 million patient encounters annually. Steward Medical Group, the company's employed physician group, provides more than six million patient encounters per year. The Steward Hospital Group operates hospitals in Malta and nine states across the U.S., including Arizona, Arkansas, Florida, Louisiana, Massachusetts, Ohio, Pennsylvania, Texas, and Utah. For more information, visit www.steward.org.