Home Depot and Sebastian River Medical Center Work Together to Transition a Patient Home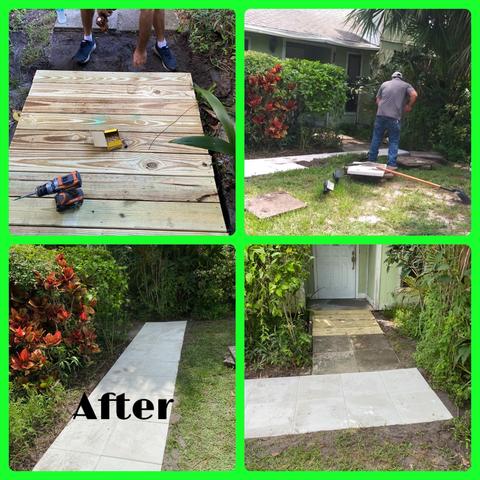 (Sebastian, FL, August 3, 2021) – Charleen Dolinger, RN, a case manager for Sebastian River Medical Center's Transitional Care Unit, understands the challenges that many patients may face, even after being discharged home.  Making sure the patient receives the proper care and accessibility to services and devices, after they leave the hospital, is as critical to their recovery as when they are in the hospital.
Dolinger had recently been assigned to a patient in the Transitional Care Unit who was now confined to a wheelchair.  Dolinger, after speaking with the patient's grandparent, realized the challenges the family would face after the discharge home. The grandparent told Dolinger that caring for their grandchild would be difficult because of the four and half inch step leading in and out of their home.  The family would need to install a ramp for doctor appointments and emergencies, and they did not have the necessary funds to get the ramp installed. 
Dolinger felt she needed to do all she could to help this patient and the family.  After researching many community resources, she reached out to follow Transition Care Unit employee, Breanna Eck, whose mother worked at the Home Depot in Sebastian. 
Kristy Bilyeu, store manager for the Sebastian Home Depot, responded quickly and sent people out to assess access to the grandparent's home. "Helping the local community is what Home Depot is all about," said Bilyeu. "Two of our employees, Vinny and Robert, were able to not only build the patient a ramp, but also a pathway to make it easier for them to get from the driveway to the front door.  We have an amazing team at The Sebastian Home Depot.  The team is always willing to help and have the skills needed to get things done.  We are so grateful to have been able to be a part of this patient being able to come home."
"Sebastian River Medical Center and the staff of the Transitional Care Unit are very grateful for the generosity of the Home Depot and its staff," said Dolinger. "I am so happy they were able to help. If not for the employees building this ramp, the patient's return home would have been very difficult."