Sebastian River Medical Center Staff Give James and Cheryl Petzing a 50th Wedding Anniversary They Will Never Forget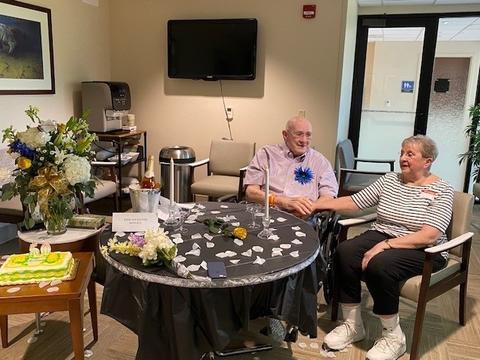 Contact:
Patricia Montgomery
Marketing Director
Sebastian River Medical Center
772-589-3186
---
A Day to Always Love, Honor and Cherish
Sebastian River Medical Center Staff Give James and Cheryl Petzing a 50th Wedding Anniversary They Will Never Forget
(Sebastian, FL, August 10, 2020) - An intimate lunch setting for two in a private dining area with Michael Bublé's version of "What a Wonderful World" echoing throughout the room, candles, flowers, cake, a beautifully set table, and sparkling cider over ice is how many may celebrate their 50th wedding anniversary during this health crisis, including James and Cheryl Petzing.  The couple celebrated 50 years of marriage on August 7th, but their celebration was different than most.  Five weeks ago, James was admitted to Sebastian River Medical Center for a procedure.  He needed short-term rehabilitative services, so he was admitted into Sebastian River Medical Center's Transitional Care Unit. Due to COVID-19 hospital visitor restrictions being implemented by many hospitals, James had not been able to see his wife since his procedure day five weeks ago.  While in the Transitional Care Unit, he informed staff that the couples 50th wedding anniversary was coming and wished he could be celebrating with his wife.  "This time is a challenge for so many that have loved ones in the hospital, rehabilitation centers or long-term care centers," said Lisa Truman, Director, Transitional Care Unit, Sebastian River Medical Center.  "When milestones like a 50-year anniversary occur, we can no longer have the big celebrations with family and friends, but it's even harder when you can't be with your significant other for such a milestone due to these unique circumstances.  The staff of the Transitional Care Unit wanted to find a way to bring James and Cheryl together for their 50th anniversary and make it a special event for them." 
The staff worked together with dietary services and administration to help make this day as special as possible.  They arranged for Cheryl to come to the hospital and surprise James on their anniversary.  She went through the proper screening protocol and when she was cleared, she was then taken to the Transitional Care Unit where she entered her husband's room.  The joy was immediately evident when James cried tears of joy at the sight of his beloved wife.  Five weeks of not being able to see one another overtook both.  It was a blessed reunion. 
The day was made even more special.  The happy couple were given flowers and a corsage then escorted to a waiting room within the hospital where outside the room was a table with white rose petals, a label that read "reception," cards and a wedding day photo of James and Cheryl.  As they entered the waiting room, it looked like a setting from a formal reception or party.  There were beautiful flowers, balloons, decorations, a cake and a table set for lunch with electric candles, a bucket of sparkling cider, one single rose and rose petals.  The couple's special moment was witnessed by hospital staff members – at a safe distance – and there was not a dry eye among them.  James and Cheryl's love for one another and the joy they felt being reunited on this special day was a moment that no one that witnessed it will ever forget. 
One last surprise awaited James and Cheryl.  Sebastian River Medical Center employee, Kay Wright, serenaded the happy couple with Bette Midler's "Wind Beneath my Wings."  During the song, James reached over and took his wife's hand.  The love was felt by everyone around them. When James was asked what the secret was to a long and happy marriage, he responded saying, "Tell your significant other three words at least three times daily, and those words are "I love you." 
This may not have been the 50th anniversary celebration James and Cheryl had planned,  but the staff of the Transitional Care Unit at Sebastian River Medical Center made it memorable and brought together a man and wife who were just happy to be together, not only for the last 50 years, but for the day to celebrate their anniversary. 
About Sebastian River Medical Center
Sebastian River Medical Center (SRMC), a Steward Family Hospital, is a nationally recognized facility located along Florida's Treasure Coast offering high-quality care close to home. SRMC is accredited by the Joint Commission, has a Bariatric Surgery Center of Excellence - as designated by the American Society for Metabolic and Bariatric Surgery (ASMBS) and the American College of Surgeons (ACS), over 100 affiliated physicians, over 650 nursing and ancillary staff and over 100 volunteers. SRMC provides state-of-the-art technology, comprehensive emergency services and award-winning surgical care. SRMC has expanded to meet the growing healthcare needs of our community with a new tower that opened in June 2020.  It offers 48 private patient rooms, offers a total of six operating rooms with the latest in technology and sanitizing system to ensure safety, a new entrance from Bay Street into a large lobby with a coffee shop and gift shot.  Services include medical/surgical inpatient, emergency care, general surgery, orthopedic surgery, urological surgery, gastrointestinal services, a cardiac catheterization program that includes implant devices, neurosurgery and spine surgery, as well as a full-service outpatient diagnostic center. Furthermore, SRMC's emergency room is proud of its ability screen patients upon arrival for respiratory related illnesses and offer designated sections of the emergency treatment area for respiratory and non-respiratory patients.
Sebastian River Medical Center is located at 13695 US Highway 1, Sebastian, FL 32958. For more information, please call 772-589-3186 or visit SebastianRiverMedical.org
About Steward Health Care
Steward Health Care is the largest private, for-profit health care network in the United States. The company is owned and led by a management team of Steward physicians.
Headquartered in Dallas, Texas, Steward employs more than 40,000 health care professionals and operates 35 hospitals across the United States and in the country of Malta which regularly receive top awards for quality and safety. The Steward network includes multiple urgent care centers and skilled nursing facilities, substantial behavioral health services, more than 7,000 beds under management, and approximately 2.2 million full risk covered lives through the company's managed care and health insurance services.
The Steward Health Care Network includes more than 5,000 physicians across 800 communities who help to provide more than 12 million patient encounters annually. Steward Medical Group, the company's employed physician group, provides more than six million patient encounters per year. The Steward Hospital Group operates hospitals in Malta and nine states across the U.S., including Arizona, Arkansas, Florida, Louisiana, Massachusetts, Ohio, Pennsylvania, Texas, and Utah. For more information, visit www.steward.org