Surgical Services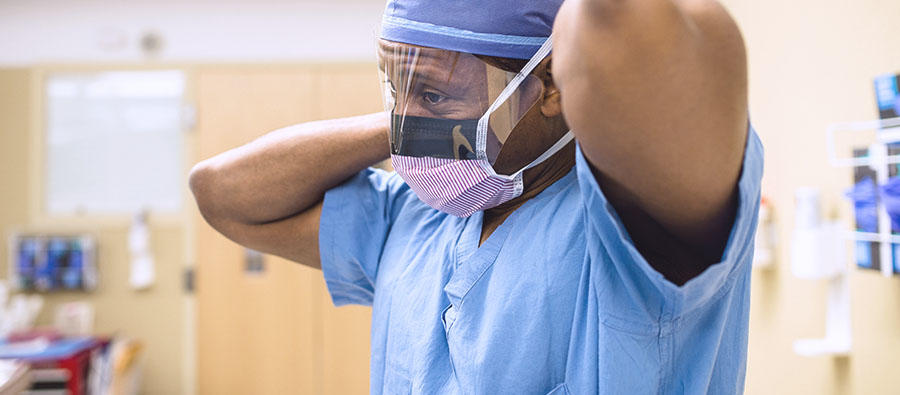 We are here to help you find what you need.
We offer a full range of surgical services in almost every medical specialty. Our skilled teams work closely with patients, families, and their primary care doctors to answer questions and address concerns.
Advanced & General Surgical Procedures Performed at Sebastian River Medical Center
Breast Cancer Surgery
Lumpectomy, partial mastectomy, total mastectomy, breast reconstruction
Cardiothoracic - Thoracic Surgery
Aortic aneurysm surgery, congenital heart disease repair, coronary artery bypass grafting (CABG), cardiac arrhythmia surgeries, including defibrillator and pacemaker implantation, heart valve repair and replacement, minimally invasive vein harvesting
Colorectal Surgery
Colon and rectal cancer, colon motility problems, such as chronic constipation and bowel incontinence, diverticular disease, hemorrhoids, fissure and fistula, inflammatory bowel disease, including Crohn's disease and ulcerative colitis, polyps
Eye Surgery
Cataract surgery (phacoemulsification) with lens implant, corneal transplant surgery, glaucoma treatment and surgery, refractive surgery, retinal surgery, ocular plastic and reconstructive surgery, muscle surgery
Gynecological Surgery
Minimally invasive robotic-assisted techniques for hysterectomy, fibroid surgery (myomectomy), endometrial ablation, surgery for urinary incontinence, embolization to treat fibroids, vaginal reconstruction
Hand Surgery
Arthritis surgery, carpal or cubital tunnel release, elbow and wrist arthroscopy, joint replacement, nerve and tendon transfers, reconstructive hand, wrist and elbow surgery
Laser Surgery
Kidney stone removal, eye surgery, tumor removal, various oral, gynecological, and ear, nose, and throat conditions
Neurosurgery
Non-invasive techniques

Stereotactic radiosurgery uses focused beams of radiation to treat brain tumors without a surgical incision

Minimally invasive options

uses catheters with instruments or medications, such as angioplasty, stenting, and embolization to treat tumors, stroke, and other cerebrovascular conditions

Intraoperative monitoring

allows surgeons to identify changes in brain, spinal cord, and peripheral nerve function before irreversible damage occurs
Orthopedic Surgery Center
Diskectomy, foot and ankle procedures, hand and wrist surgery, hip resurfacing, laminectomy, reconstructive surgery, shoulder surgery, spine surgery, including discectomy, laminectomy, spinal fusion, and vertebroplasty
Total replacement of the hip (link to total hip replacement page under ortho), knee (link to total knee replacement page under ortho), partial knee (link to partial knee replacement page under ortho), and shoulder and elbow
Use of ExacTech GPS and Conformis technologies for custom knee replacement, correct placement and alignment of new joints
Spine Surgery
Balloon kyphoplasty

used to repair fractures caused by osteoporosis or cancer. Acts as an internal cast that provides rapid relief from back pain and improves spinal alignment. The surgeon inflates a small balloon within the fractured vertebra and inserts bone cement to restore the original size and shape of the vertebrae.

Lumbar disc microsurgery

used to treat herniated discs of the lower back, a condition in which the disc's inner, jelly-like material of pushes through the outer layer of cartilage, which puts pressure on the spinal cord and causes pain. The surgeon makes a small incision above the damaged disc to remove the damaged portion, leaving healthy tissue intact. As the area heals, the spinal cord returns to its normal position, alleviating pain and pressure.

Minimally invasive spinal fusion

for patients with severe degenerative disc disease, spinal instability or deformity. The damaged disc is removed and a spacer is placed between the vertebrae to help restore alignment and relieve pain. Small pins and rods are inserted to provide stability while the bone heals. Rather than harvesting bone from the patient's pelvic bone, which can be a significant source of post-operative pain, this technique uses bone graft substitutes (osteobiologics) to enhance healing.
Urological Surgery
Prostate cancer, including robotic surgery for prostatectomy, bladder disorders, kidney stones (including laser surgery techniques), pelvic conditions
Vascular Surgery
Aneurysm repair, angioplasty, embolization, stenting, thrombolysis, varicose and spider vein treatment
Are Minimally Invasive Options Available At Sebastian River Med Center?
Our surgeons perform minimally invasive procedures when possible. By using miniature cameras with microscopes, tiny fiber-optic flashlights, and high-definition monitors, surgeons can perform surgery through small incisions that take only a few stitches to close. Minimally invasive procedures may result in less blood loss, less pain, and a quicker recovery.
Arthroscopic surgery
Endovascular techniques (catheter-guided procedures)
Laparoscopic surgery
Laser surgery
Robotic surgery
 
From a console in the operating room, the surgeon remotely manipulates surgical instruments, which are attached to robotic arms, to perform surgery through the incisions. A powerful camera provides magnified, 3-D images to provide clear details of the surgical area. Robotic technology gives surgeons enhanced dexterity, precision, and range of motion.
What are the BENEFITS of having a minimally-invasive procedure?
Less pain and scarring, lower risk of infection, shorter hospital stays, and quicker recovery